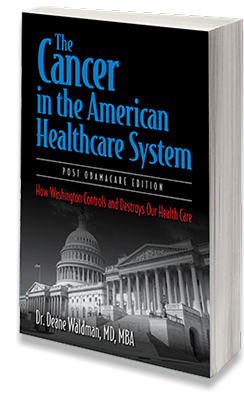 The Cancer in the American Healthcare System
How Washington Controls and Destroys Our Health Care
Offers both the diagnosis and the cure for our sick healthcare system.
Inside you will discover:
​ Why health care is less affordable and much less available than ever before…
​ Where all those trillions of dollars are going…
​ Who the real bad guys are…
​ Why Obamacare can't and won't help…
​ How to regain your control of your health care…
Print version: $19.95

Get Your Copy

The Cancer in the American Healthcare System blows away the smoke and confusion surrounding our sick healthcare system. It shows a way out of this mass of contradictory regulations and competing interests so you can get the care you need when you need it, at a price you can afford.