President Obama started his healthcare "reform" saying that U.S. spending on healthcare was "unsustainable; we have to cut spending."
Yet, Obamacare increases spending by $2.6 trillion. This is money we simply do not have.
​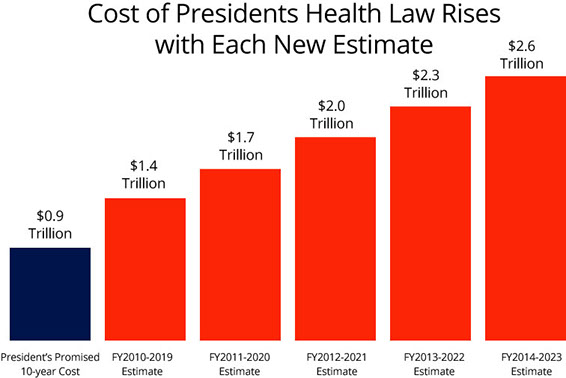 MONEY WE DON'T HAVE
Estimates of the gross outlays under the President's health care law in nominal dollars using CBO estimates of major coverage provisions as well as Senate Budget Committee.
REFERENCE: http://budget.senate.gov/republican
In order to pay for all the new bureaucracy and regulators, Congress has done three things we don't want them to do:
1) They used money to pay their henchmen bureaucrats that is desperately needed for health care providers.
2) They diverted money away from other vital services that we need along with health care.
3) Worst of all, they borrowed lots and lots of money, adding to our already bloated debt. As a result, our children will suffer in the future, trying to pay off debts that we are incurring now.
Data from 2018 indicate the average American family of four spent $28,166 for healthcare costs, mostly for insurance premiums. For healthy families, that is literally wasted expenditure. For perspective, $28,166 represents 45 percent of 2018 median household income. Nearly half of their hard-earned dollars went to insurance companies, before they paid taxes or the mortgage, or put food on the table.
Former President Obama's spending, mainly on his healthcare bureaucracy, achieved an unenviable record. For the first time in our history, in 2013, the U.S. national debt ($16.7 trillion) exceeded U.S. GDP ($16.6 trillion). In simple terms, we owe more than we are producing. This is the very definition of unsustainable.
​
Obamacare did not make healthcare sick. The U.S. healthcare system was dysfunctional long before Mr. Obama took office. However, his "reform" made things even worse!